P&H is now the exclusive source for the HEATEATER® brand of high temperature wheel products!
We're still pinching ourselves when we think about how lucky we are to be the exclusive manufacturer and distributor of the HEATEATER® line of wheel products that have been produced by Roll-Master for the past 40 years. These wheels work where other types of high temperature wheels fail, or just plain wear out too fast. High temperature products fall into a class all by themselves anyway. They are subject to such demanding environmental stresses that they fall into a "consumable" category. No matter how great we make them, they are still destined for periodic replacement.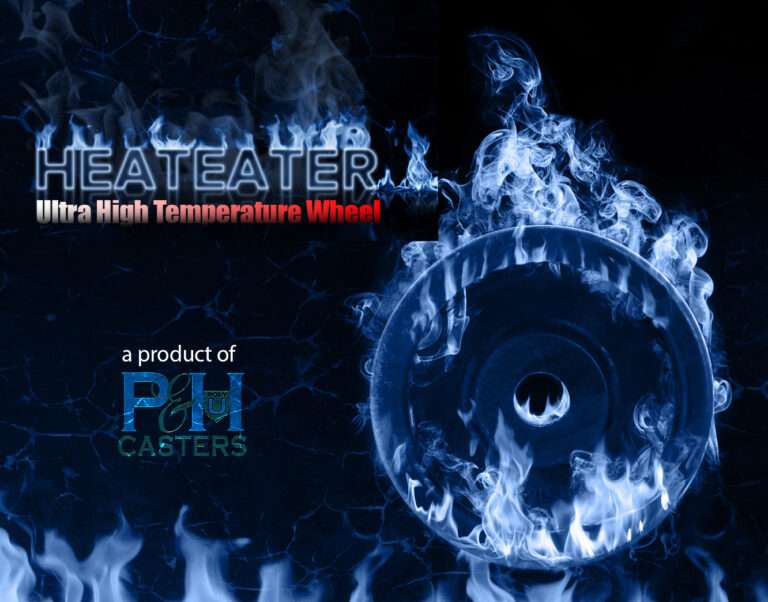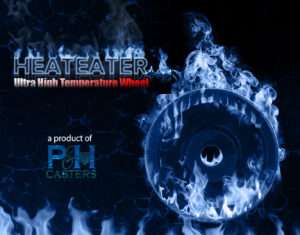 But these guys are special. They wear longer than many high temperature phenolic products (yup, maybe even our own line of super green Epoxy high temp wheels) and their softer tread is kinder to floor surfaces
than other types of high temperature wheels. All of this and still impact resistant.
The wide range of operating temperatures for the HEATEATER®  also sets it apart from many other high temp products.  The low end of the operating temperature range is  -70°F .  That's about 50° lower than phenolic high temp wheels!
Normal operating temperatures for this premium line of wheels are  475°F continuous exposure up to  550°F the recommended intermittent temperature exposure.
How great is that??
The product line includes a wide variety of diameters and tread widths. 
Wheel Diameters: 2 1/2″, 3″, 3 1/4″, 3 1/2″, 4″, 5″, 6″ and 8″
Tread Widths:        1″, 1 3/8″, 1 1/2″, 1 5/8″, 2″, 2 3/16″
Plain bore, roller and stainless steel bearings
Maintenance free coated bushings
We've been admiring the HEATEATER® products for so long, we really find it amazing that they are now OURS to share with YOU.